Aigle
Aigle is a traditional, high quality brand that specialises in designing wellington boots. These wellies are handmade, which means that each pair is never exactly the same. Because of this unique manufacturing process, combined with the use of high quality natural rubber, these wellies are known for their excellent quality and comfortable fit. Aigle has different types of wellies and rain boots with various widths, making them suitable for people with larger calves. The range you will find below all feature straps or adjustment systems that make these boots perfect suitable as wide leg wellies. Click on the pictures below for more information and to order your wide calf wellies online.
There are no products matching the selection.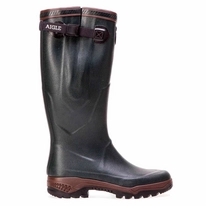 Wellies Aigle Parcours Vario 2 Bronze Calf Size M/L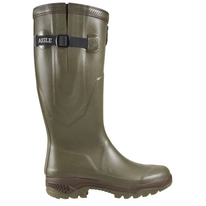 Wellies Aigle Parcours Vario 2 Khaki Calf Size M/L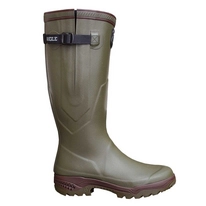 Wellies Aigle Parcours 2 Iso Khaki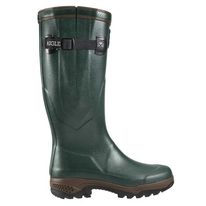 Wellies Aigle Parcours 2 Iso Bronze
Aigle UK
If you're looking for high quality wide fit wellies, then Aigle is a great choice. Aigle wellies are often equipped with an adjustable buckle on the shaft, which means that you can always adapt the fit of the boots to your calves, ensuring maximum comfort. Be sure to have a look at our other top notch wide calf wellies brands to find your favourites.