Wellies Evercreatures Army Surplus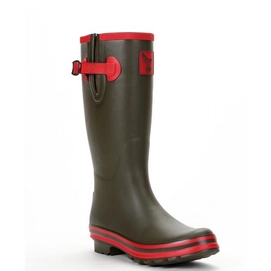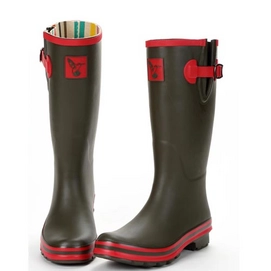 Wellies Evercreatures Army Surplus
Add to wishlist
isApplePayment = value" @toggle-spinner="() => spinning = !spinning" @update-shipping="updateShipping()" :special-price="specialPrice" :normal-price="normalPrice" :product-name="productName" >
Mail me when this product is available again
Our service
Free shipping as of £200.00
Fast delivery
2 year warranty
Item description
These trendy boots come from the English brand Evercreatures, they have an adjustable calf width by means of a belt. As the picture shows, these boots include a red stripe at the bottom and top, while the rest of the boot in an attractive navy green. The boots have a removable footbed, so you have the choice to replace the insoles with your own. The boots have a cotton lining which makes them less suffocating on your feet. The boots are made of EVA which is a synthetic rubber with the benefits of being UV resistant, ad also lasting longer than natural rubber. Unlike most wellies, these boots are even suitable for activities such as shopping, taking the dog out to walk on the beach and are also great to dance in during a festival. The last activity is especially popular with these boots, as they are even referred to as festival boots. <br /> <br /> <table cellspacing='0' id="etriastabel"><tr><th>Size:</th><th>5.5</th><th>6.5</th><th>7.5</th><th>8.5</th></tr><tr><td>Height in inches:</td> <td>15</td><td>15</td><td>15</td><td>15</td></tr><tr><td>Calf Width in inches:</td><td>14.75</td><td>15</td><td>15.25</td><td>15.25</td></tr><br /> </table>
Evercreatures is an English brand known for its fashionable take on the traditional rain boot. Their rain boots are made from E.V.A. which is a rubber-like material that has the advantage of protection against UV radiation, making them less likely to dry out than natural rubber. These rain boots are also equipped with a strap which allows the calf width to be adjusted.
Specifications
Wellies

Brand

Evercreatures

Colour

Green

Material

EVA rubber

Height

15 inches

Calf Width

15 inches (size 5.5)

Adjustable calf width

Removable footbed
Reviews
GERT OEPKES
January 26, 2022
Great gift
very classy boots , prefect gift ,
Gert Oepkes
January 19, 2022
Great quality
extremely good customer service , for a very special product .